This handy long-term calendar is a guide to some of the most interesting events, with links for more information.
Warwick Castle

If you are organising an event you think will be of interest to visitors or local people, email the details to whatson@unlockingwarwick.org
Local Walks
Please see below three walks by Stephen Cross available to download
Hatton Flight Canal Walk
Rivers and Canal Walk
Two Castles Walk
 Warwick Walks 2017 – People and Places
Further to its successful introduction in 2016, registered Blue Badge Tour Guides Gary Millward, Peter Douce and Dave Fisher are emerging from their Winter hibernation to announce news of walks in Warwick throughout 2017.
The trio all live in the Heart Of England, based in Warwick, Kenilworth and Birmingham respectively.
The walk focuses on the people and places that have made the town of Warwick a must see for UK and overseas visitors alike and lasts approximately 90 minutes.
Walking Tours commence in the centre of Warwick just outside the Tourist Information Centre on Jury Street and bookings are now being taken for the following dates:
Sunday 28th May-2pm

Saturday 24th June-10am

Saturday 29th July-10am

Monday 28th August-2pm
The cost is just £8.00 for adults, and there is no charge for children under 12.
In order to reserve a place please visit Warwick Walks People and Places on Facebook.
Payment can also be made in person on the day of a walk.
 Trivia Trails 2017
Whether a visitor or local you will be amazed how much you observe and absorb on a fun quiz trail around Warwick town centre. The 90' quiz trail takes you on a fascinating and informative walk past historic buildings, along quaint lanes and garden paths you probably would never have discovered on your own, whilst looking for clues to answer a mix of historical and observational questions, plus a couple of fun ones too.  Learning in a fun way!
Meet your Trivia Trail host at the appointed town centre venue for a short introduction before setting off in your group following directions on the quiz sheet, returning 90 minutes later for scoring and prizes, with the option of food and drinks.
Trivia Trails allow plenty of time to pack other activities into your schedule if only here for a day or two.  Also run in Stratford-upon-Avon. Perfect for visitors, families & friends, schools, team-building, hen parties and birthdays.
Book onto a scheduled quiz trail and enjoy some light-hearted competition, and private parties welcome from two up to 60+ guests (minimum of £50.00), seven days a week at a time to suit.  60′ shorter trail available.  Wheelchair, pushchair and dog-friendly route options included in trail.
Adults: £10.00;  Child aged 9-16: £3.00;  Child aged 0-8: Free.
Book by telephone or email.  By mobile if on the day.
Contact: jane@triviatrails.co.uk / 07718 574544.
Visit www.triviatrails.co.uk for full details.
Forthcoming scheduled dates:
Saturday 20th May – 12noon and 2.30pm
Monday 29th May – 12noon
Saturday 3rd June – 11.30am
Friday 6th June – 6pm
Sunday 11th June – 2pm
Saturday 17th June – 11.30am
Friday 23rd June – 6pm
Saturday 8th July – 11.30am and 2.30pm
Wednesday 19th July – 2pm
Sunday 30th July – 12noon
Thursday 3rd August – 2pm
Friday 11th August – 1.30pm
Saturday 19th August – 12noon and 2.30pm
Sunday 27th August – 2pm
Warwick Food Festival
Sunday 28th May 2017. 10am
This will be an amazing opportunity for visitors and residents in Warwick to learn and enjoy all aspects of food and drink.
Warwick's newest Food & Drink Festival will be a celebration of the town's fantastic restaurants, bars, and cafes, as well as some of the finest regional food & drink producers.
Come and join us for a day of great food, cooking demonstrations and entertainment. Also, enjoy the special offers from local pubs & restaurants in and around the town.
---
Two Castles Run
Sunday 11th June 2017. 9am
The Two Castles Run is organised by the Rotary Club of Kenilworth and Leamington Cycling and Athletic Club, entirely by unpaid volunteers, with all proceeds being donated to charitable causes.
There are three public car parks, which are 20 minutes from the Start, at Warwick Castle, which participants can use.  There is minimal on-street parking near the Start.
Alternatively, participants can be dropped off at Warwick Castle's Stratford Road car park.
---
Warwickshire Open Studios
17th June 2017 – 2nd July 2017
The 17th anniversary of Warwickshire Open Studios!
It has grown to become the biggest exhibition of unique and original art and craft in Warwickshire, with over 239 artists and makers in 150 venues in and around Leamington Spa, Stratford upon Avon, Kenilworth, Rugby, Warwick, Nuneaton, Shipston on Stour and Coventry.
From painting to printmaking and pottery, there is lots on offer for every taste and budget.
Entry is free to all the venues. You can speak to the artists and makers and find out more about their craft, with many offering demonstrations and workshops.
---
Warwick Thai Festival
Sunday 16th July 2017. 10am – 5pm
This annual event is well established within the Thai events calendar and offers all visitors an unusual but surprisingly successful fusion of cultures. The Racecourse comes alive to a vibrant mix of Thai food, music and dance which is on offer throughout the day with over 40 food and craft stalls.
The Thai Festival is an unmissable opportunity to experience authentic Thai culture including classical Thai dancing, Thai puppet show, Thai boxing, sword fighting, handicrafts, entertainment, fruit carving and Thai massage.
There will also be a Buddhist ceremony with local Thai people taking gifts to the Buddhist temple.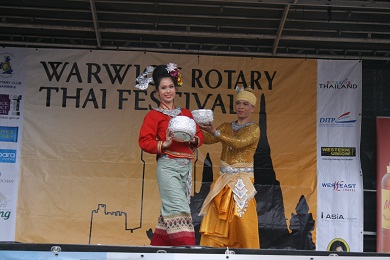 ---
Warwick Court Leet, Beer, Cider and Music Festival
Friday 21st July 2017 & Saturday 22nd July 2017.
This year we hope that you will join us once again at Warwick Beer, Cider and Music Festival, now being run by the Court Leet, to drink some excellent locally brewed beer and cider (and maybe further afield) all in the name of raising money for Warwick Charities.
This year we will have 80 beers and 40+ ciders to choose from, live music and hot food available at all sessions. Free soft drinks for all drivers. Admission includes a free glass.
---
Warwick Folk Festival
Thursday 27th July 2017 – Sunday 30th July 2017
Singers and musicians, street entertainers and Morris dancers – it seems that anybody and everybody who enjoys folk music heads for Warwick in July each year.
Since its humble beginnings in 1979, the annual Warwick Folk Festival has developed into one of the most highly regarded folk events on the national and international scene, attracting fans from all over Britain and as far afield as the USA and Australia.
Warwick Folk Festival has become a major highlight on the British music calendar attracting people from all over the country and beyond. One of the attractions of the Festival is the live music and dance which is programmed around the town centre including hotels and public houses.
The festival takes place at Warwick School and offers a fantastic family day out with workshops, storytelling, theatre, music and dance, as well as a real ale & cider festival, wine bar and craft market. There is also a free concert and dancing in the Market Place.
---
Retro Warwick Classic Car Show
Sunday 13th August 2017
Bring along your pre-1990 classic car, retro, commercial, scooter, bike or hot rod.
Park up in Warwick's the picturesque Market Place and enjoy the cars. pubs, cafes, attractions and many interesting shops.
It's Free and no pre-booking required!
---
Warwick Horticultural Show
Saturday 26th August 2017 – Monday 28th August 2017.
Something for all – there are 76 classes which include (apart from the obvious) handicrafts, paintings, & photographs. 34 cups & trophies up for grabs including the prestigious RHS Banksian Medal & Certificate awarded to the most prolific points winner on judgement day.
Entries into the show will be received between 6am & 2pm on Saturday 27th August 2016 and judging will take place at 2:30pm.
---
Carols at Warwick Castle
16th December 2017
Carols at the Castle is a popular charity event held in the magnificent grounds of Warwick Castle on Saturday 16th December 2017. The spectacular event held annually in the dramatic surroundings of Warwick Castle is a highlight of the festive calendar and raises funds for many local causes.
It is expected that the evening will be enjoyed by a capacity crowd of 2,500 people so it is advisable to book early. Last year's event sold out well in advance and record funds were raised for local charities.
---